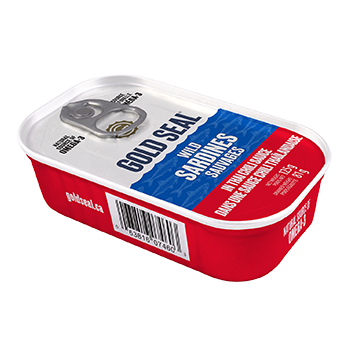 WILD CAUGHT USING PURSE-SEINING
EXCELLENT SOURCE OF PROTEIN – 15G PER CAN
NATURAL SOURCE OF OMEGA-3S
SOURCE OF VITAMIN D, CALCIUM & IRON
Wild Sardines
(Pilchard Sardines – Latin: Sardinops sagax)
Wild Pacific sardines in a sweet & savoury, aromatic Thai sauce with a mild chili note.
Ingredients
Pilchard sardines
Sweet chili sauce (water, sugar, chili, distilled vinegar, garlic, tomato paste, sunflower oil, salt, citric acid, xanthan gum, paprika oleoresin, chili flavour)
View Nutritional Information
Sardines are named after Sardinia, the ancient Italian island where large schools of these fish were once abundantly found. There are more than 21 species that may be classed as sardines.
Our sardines are Sardinops Sagax which are caught during the April-July fishing season in the North-West Pacific Ocean.
Product Reviews