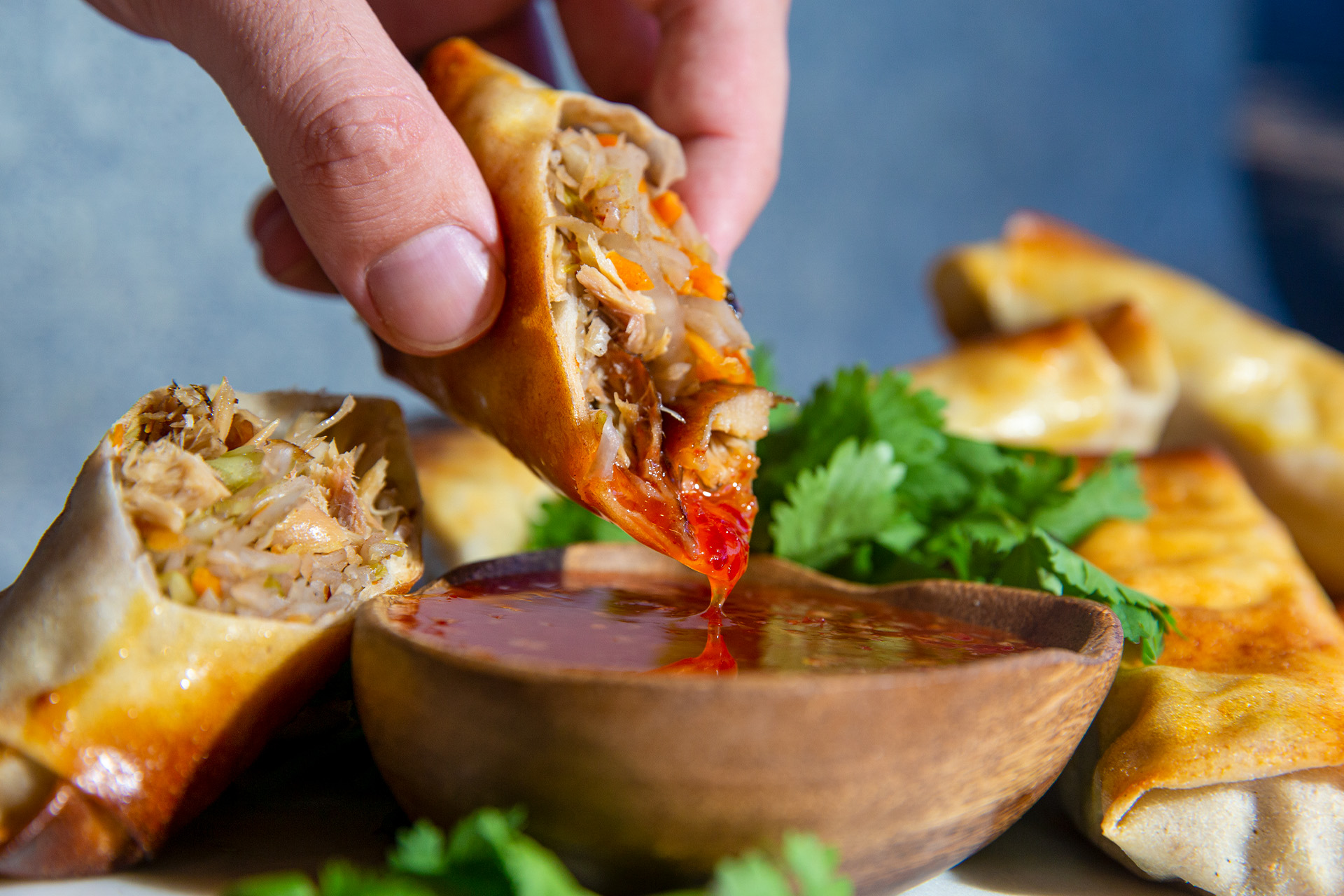 Smoked Mackerel Egg Rolls 
Ingredients
4 cups green cabbage, finely shredded

 

2 large carrots, julienned in 2 ½ inch pieces

 

4 stalks celery, julienned in 2 ½ inch pieces

 

2 cans (110g) Gold Seal Smoked Mackerel in Sunflower Oil, drained and flaked  

 

1 tbsp soy sauce

 

1 tbsp oyster sauce

 

2 garlic cloves, grated

 

2 tsp Chinese five spice powder

 

12 egg roll wrappers

 

2 tbsp sesame oil

 

Salt and pepper to taste

 
Directions
Preheat the oven to 400°F. Line a baking sheet with parchment paper.

 

Bring a large pot of salted water to a boil and prepare a large bowl of ice water. Once water is boiling, add the cabbage, carrot and celery. Cook for two minutes. Use tongs or a slotted spoon to transfer the vegetables to the ice water bath. Once cool, strain the vegetables and place them on a clean kitchen towel. Wring the towel with the vegetables inside to release as much of the water as possible. 

 

Add the vegetables to a large bowl with the mackerel, soy sauce, oyster sauce, garlic and Chinese five spice powder. Season with salt and pepper. Mix everything well to combine. 

 

Place the egg roll wrappers on the counter in a diamond shape. Distribute the filling evenly amongst the wrappers. Pull the bottom corner up and over the filling and tighten it towards yourself. Fold in the sides to hold all of the filling in place, dab some water on the top corner and then continue to roll all the way to the top. 

 

Place rolls on the baking sheet. Brush each one with sesame oil and sprinkle with salt. 

 

Bake for 15-18 minutes or until golden brown and crispy.
Recipe Reviews