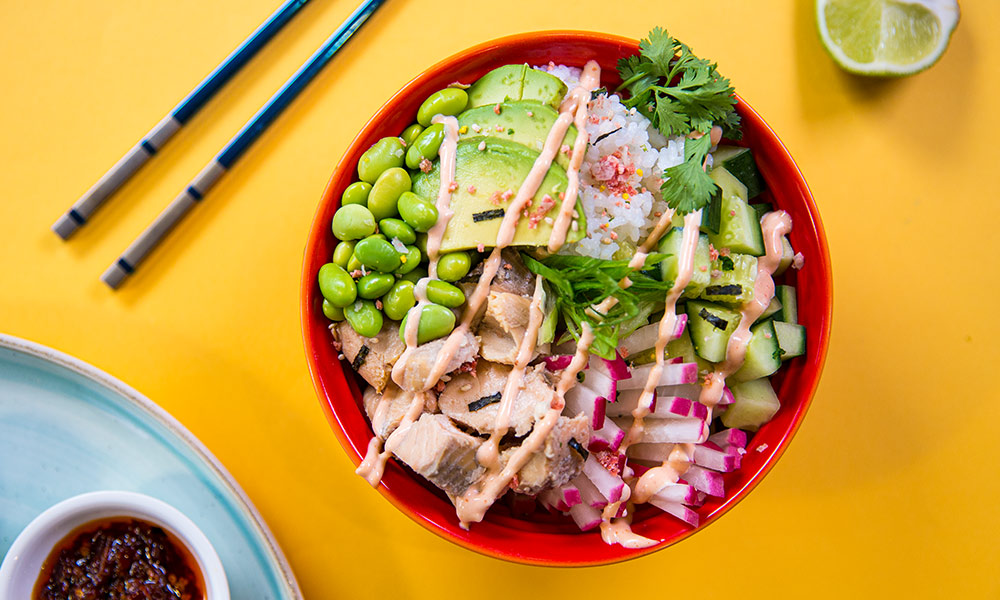 15 Minute Salmon Poke Bowl
Ingredients
3 cups sushi rice
½ cup rice wine vinegar
2 tbsp brown sugar
½ tsp salt
2 cans (120g) Gold Seal Skinless Boneless Pink Salmon, drained
2 tsp toasted sesame oil
2 tsp tamari or soy sauce
½ cup mayonnaise
2 tbsp sriracha
½ English cucumber, cut into cubes
3 radishes, cut into matchsticks
1 avocado, sliced
1 cup edamame
½ cup cilantro chopped
½ scallions, thinly sliced
Furikake (optional but highly recommended) or toasted sesame seeds
Directions
Rinse the sushi rice very well until the water runs clear.
Place the rice in a medium pot with 4 cups of water. Bring the rice to a boil, stirring every couple of minutes. Once boiling, cover and turn heat to low. Check the rice after 7 minutes and taste to make sure it is cooked. If it isn't done yet, add a bit more water and continue cooking. When finished, remove from heat, gently stir with a spoon and cover to steam for 2 extra minutes.
Meanwhile, in a separate small pan over medium heat, warm the rice vinegar, sugar and salt until sugar and salt are dissolved. Add this rice vinegar mixture to the cooked rice and gently stir.
In a separate bowl, mix the salmon with the toasted sesame oil and tamari or soy sauce.
To make the spicy mayo, mix the mayonnaise with the sriracha.
Make the bowls by adding the seasoned rice, salmon, cucumber, radish, avocado and edamame.
Garnish with cilantro, scallions and furikake or sesame seeds.
Use a small squeeze bottle to squeeze the spicy mayo on top or simply dollop on with a spoon.
Recipe Reviews