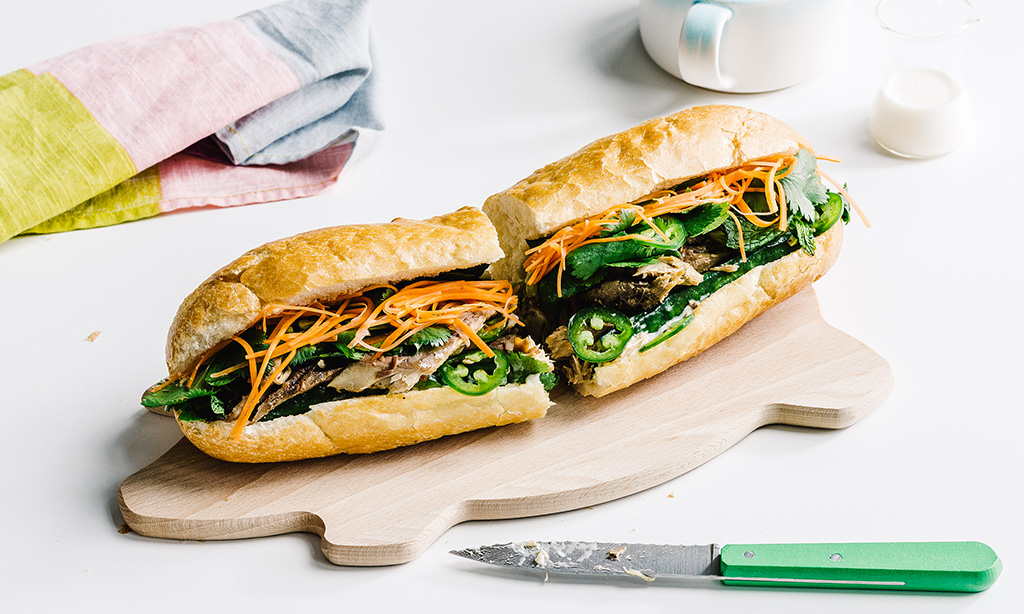 Mackerel Banh Mi
Common in Vietnam but rare in Canada. This mackerel banh mi makes the perfect lunch or late-night snack!
Ingredients
2 Vietnamese baguettes, or 1 French baguette, cut in two
2 tbsp mayonnaise, or to taste
2 cans (115g) Gold Seal Wild Mackerel (Mediterranean), drained
¼ English cucumber, sliced lengthwise into spears or sliced
½ cup pickled carrots
1 handful fresh cilantro
1 handful fresh microgreens, optional
Fresh mint, optional
Jalapeño slices, optional
Directions
MAKE THE PICKLED CARROTS:
Place the carrots in a bowl and sprinkle with the salt. Massage the salt into the vegetables and let sit for 5 minutes.
Rinse, drain, then squeeze out as much liquid as possible.
Place in a small bowl and cover with water. Mix in the sugar and white vinegar. Drain well before using.
ASSEMBLE THE MACKEREL BANH MI:
Slice the baguettes open lengthwise, but do not split. Toast lightly.
Spread on mayonnaise to taste, then top with mackerel, cucumber spears, pickles, and cilantro.
Add microgreens, mint, and jalapeños, if using. Enjoy immediately.