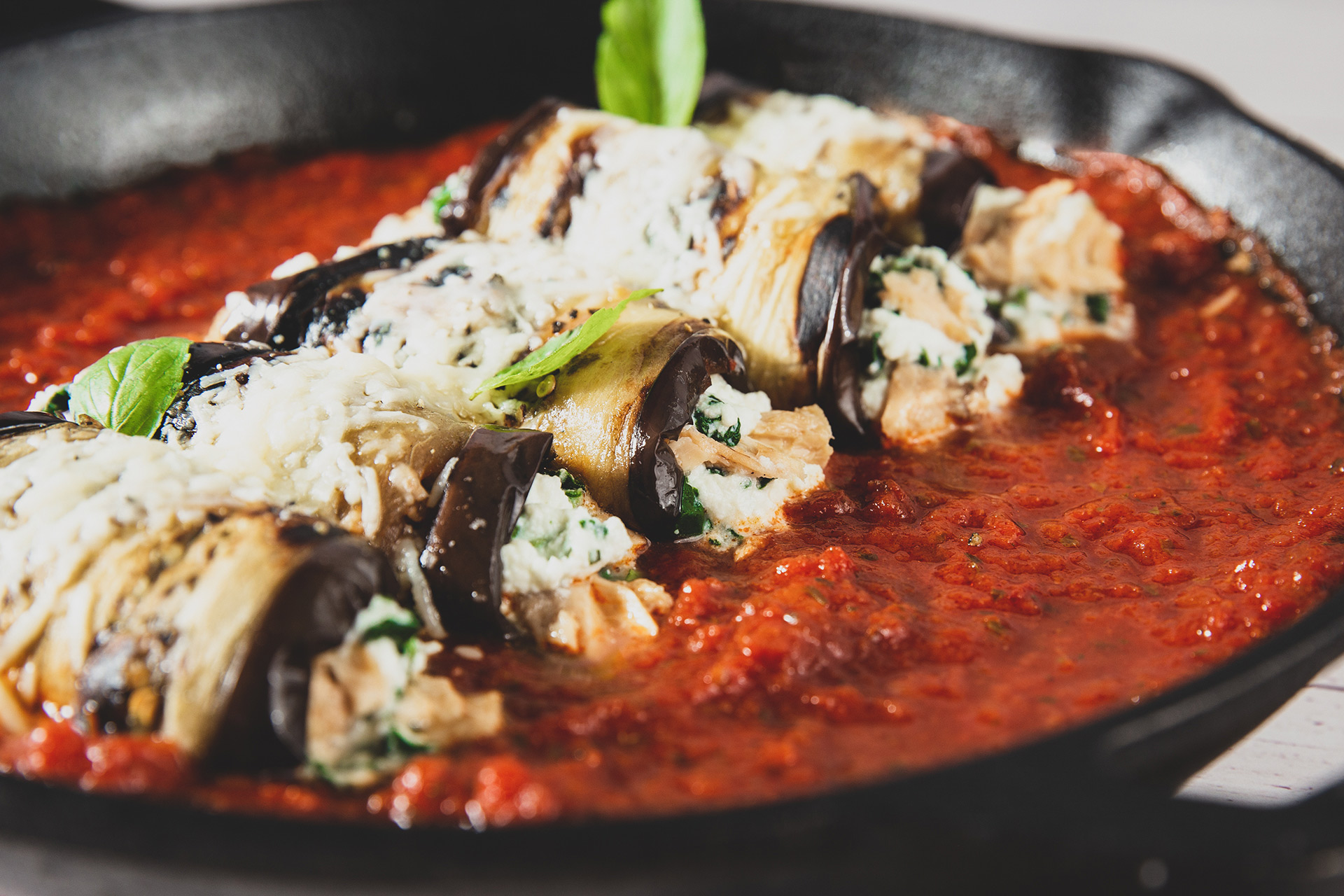 Salmon Cannelloni
Fulfill those cannelloni cravings, but without the guilt! This Salmon Cannelloni recipe is proof that comfort food CAN be healthy! Packed with protein, and tastes unapologetically delicious!
Ingredients
2 medium purple eggplants

2 cans (120g) Gold Seal Wild Pink Salmon (Skinless/Boneless), drained 

2 tbsp extra virgin olive oil

1 small white onion

3 garlic clove, thinly sliced

1 tsp chili flakes

1 can (28oz) of tomatoes (or substitute 1 jar Authentica Siciliana Tomato Sauce)

1 cup ricotta cheese

½ cup blanched spinach- chopped

2 tbsp fresh basil, finely chopped

1 lemon, juiced

Parmesan, to garnish
Directions
Preheat oven to 350°F.

Cut the stem off the eggplant and cut slices lengthwise, about ½ inch thick.

Lay the eggplant on a baking sheet and season with salt. Let rest for 20-30 minutes to draw out any excess moisture. Pat dry with paper towel.

Heat 1 tbsp olive oil in a frying pan over med-high heat and fry the eggplant slices until golden brown on each side.

Remove from pan and season with salt and pepper.

Make the sauce:
Heat 1 tbsp olive oil over med-low heat. Sauté onion until translucent. Add garlic and chili flakes and cook until fragrant. 

Add tomatoes and break up with a spoon. Season with salt and pepper. Simmer for 20-25 minutes.

OR Save time by substituting this sauce with 1 jar of Authentica Siciliana Tomato Sauce.
While sauce is simmering, in a large mixing bowl combine salmon, ricotta, spinach, basil and lemon juice, mix well. 

Place 2-3 Tbsp of cheese filling on eggplant slice and roll over the cheese filling.

Place in a greased baking pan with the seam side down.

Add tomato sauce to the baking dish and place rolled eggplant cannelloni in the dish.

Bake in 350°F oven covered for 40 minutes. 

Garnish with grated Parmesan cheese.
Recipe Reviews