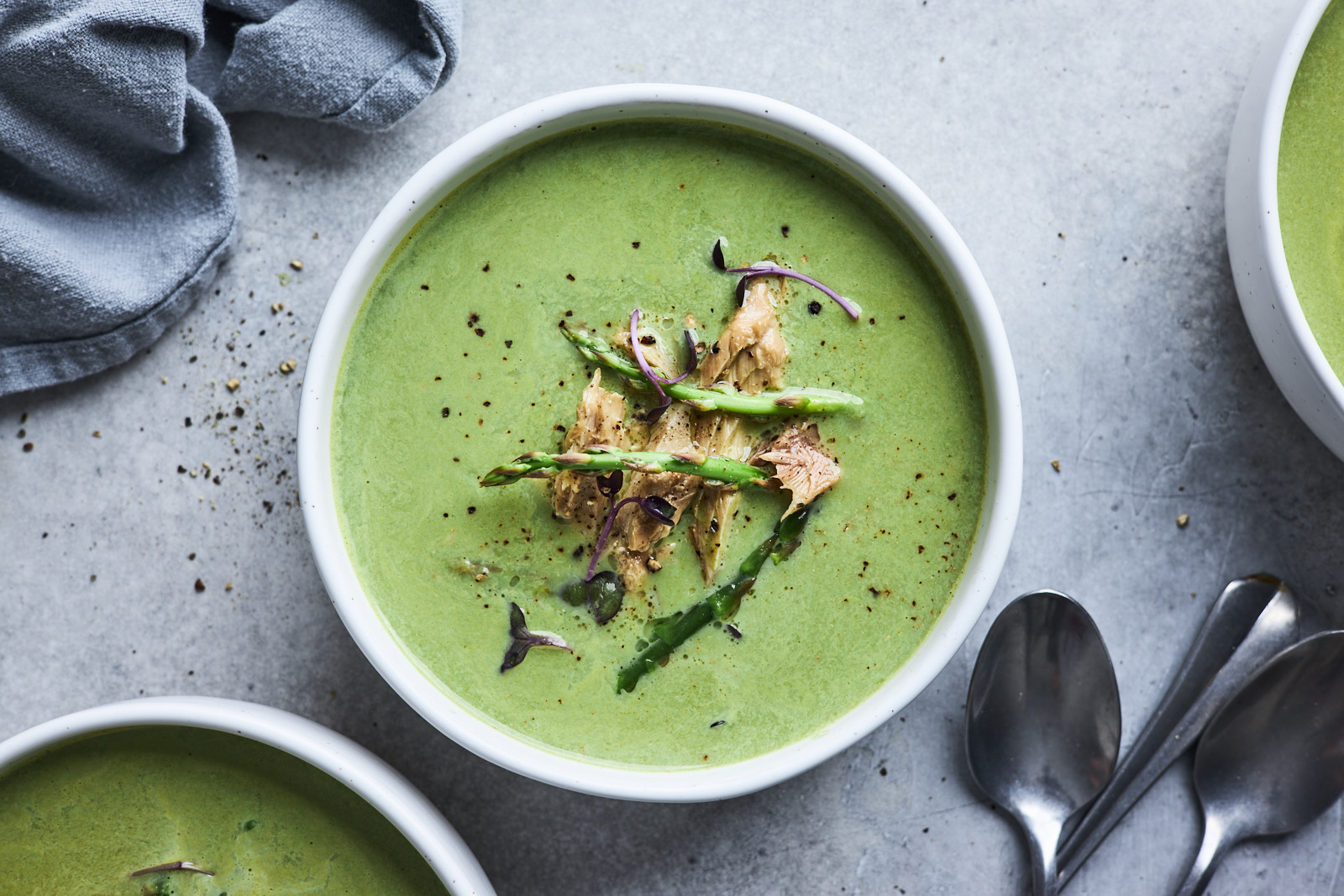 Creamy Asparagus Soup With Wild Mackerel
Ingredients
2 lbs of asparagus, stalks chopped into 1 inch pieces, woody ends discarded, tips reserved
1-2 tablespoon olive oil
1 tablespoon butter
1 leek, white and light green parts only cleaned and sliced
1 shallot, peeled and sliced
2 cloves of garlic, peeled and minced
2 cups of baby spinach
4 cups of stock/broth*
½ cup of heavy cream
2 115g cans of Gold Seal Wild Mackerel Skinless Boneless in Olive Oil
Directions
Heat the butter and oil in a large saucepan. Add half the asparagus tips and cook for a few mins to soften. Remove onto plate with slotted spoon and set aside.
Add the shallots, and leeks and sauté for 3-5 min or until softened. Add the asparagus stalks, garlic and spinach and season with salt and pepper and cook for another 3-5 min until softened but still bright.
Pour over the stock, bring to boil, then reduce heat and simmer uncovered 8-10 min or until stalks are tender.
Carefully ladle soup into a blender in batches if needed and blend until very smooth (you can also use an immersion blender). Return soup to pot
Stir in the cream.
Ladle soup into bowl and add asparagus tips and Mackerel to each bowl. Serve with crusty bread. Leftovers can be stored in the fridge in an air tight container for up to 2-3 days.
Tips and Tricks
For a thicker soup consistency, just simply reduce broth/stock amount by 1 cup or more depending on how thick you want it. Add ½-1 cup of peeled and chopped potatoes in to cook with the asparagus for a richer and thicker consistency in this soup.
Cream can be substituted with a non dairy one if needed (coconut cream, cashew cream etc)
Leeks can easily be substituted with a small bunch of green onions.
Add fresh or dried thyme for extra seasoning.
Garnish can also include chopped chives and a squeeze of lemon juice before serving.
It is common to serve this soup with with a dollop of butter or herbed butter which gets swirled into the soup for extra flavour and richness.
Recipe Reviews