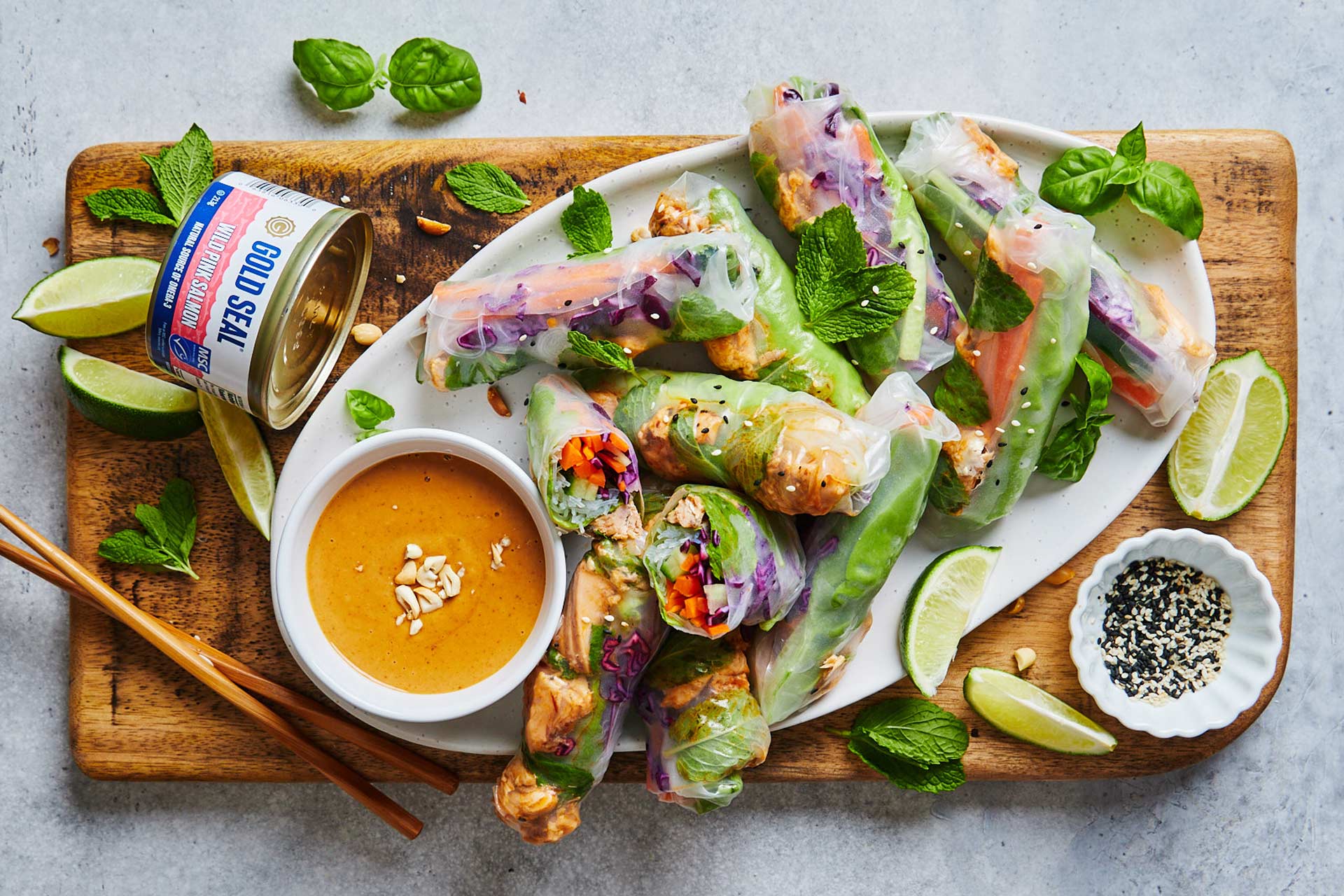 Fresh Spring Rolls With Salmon and Peanut Sauce
This recipe is so full of good and makes the perfect lunch or dinner! These fresh spring rolls are easy to make, family friendly, and versatile for any Spring or Summer occasion. Developed by Ocean Brands Partner, The Olive and Mango! Check our her instagram and website for more beautiful recipes.
Ingredients
FOR THE SWEET CHILI MARINADE:
1 lime, juiced
4 tsp sesame oil
3 tsp Asian red chili paste (sambal oelek or Sriracha)
2 tsp toasted sesame seeds
2 tsp sugar or honey
1 clove garlic, minced
1 tsp salt
¼ tsp black pepper
FOR THE SPRING ROLLS:
2 cans (213g) Gold Seal Wild Pink Salmon, larger bones and skin removed and flaked
10 sheets of spring rolls rice paper wrappers
5 large green lettuce leafs each torn in half
1 oz cooked rice vermicelli (optional)
½ cup purple cabbage sliced thin
1 large carrot, peeled and sliced into thin strips
1 large cucumber, sliced into thin strips
1 bunch fresh mint leaves
1 bunch fresh basil leaves
1 bunch fresh cilantro
optional for garnish: sesame seeds
EASY PEANUT DIPPING SAUCE:
¼ cup creamy peanut butter
1 tbsp hoisin sauce
2 tsp soy sauce
1 clove garlic, minced
1 tsp Sriracha sauce or a chile garlic sauce, optional for spice
1–2 tbsp warm water, or more as needed
Directions
FOR THE DIPPING SAUCE:
Process in a food processor or whisk together everything except water until smooth. Add 1-2 tablespoons of warm water or until you reach desired thinness. Pour into a serving bowl and garnish with crushed peanuts (optional). Set aside.
FOR THE SPRING ROLLS:
In a small bowl whisk together the sweet chili marinade and the pour over flaked salmon and toss gently.
Cook vermicelli noodles in boiling water, for just a few minutes, according to package instructions. Drain and rinse with cold water and set aside Gather all topping ingredients together, including chopped veggies, herbs, and marinated salmon.
Add about 1-2 inches of warm water to a large, deep dish, or pie pan. Place one rice wrapper into the water and let soak for just 10-15 seconds. It should still feel pretty firm as you remove it and lay it on your counter or plate – don't use wood as wrapper will stick to it.
In the middle of the wrapper, place one lettuce leaf half. Top with a couple tablespoons rice vermicelli followed by some veggies. Be careful not to overstuff the roll as it will make it harder to roll and more likely to tear. Line 3 portions of salmon in a row next to the filling. Place 2 basil or mint leaves in between it – this is purely decorative.
Roll up wrappers carefully and tightly like you would a burrito. Starting with the side away from the salmon, gently pull the bottom of the roll over the first row of filling, then fold in the sides and continue to roll. Repeat process until all spring rolls are assembled. Slice each spring roll in half if desired and garnish with sesame seeds. Serve with the Peanut Sauce.
Tips and Tricks
They taste best the day they are made, but they can be stored for 2-3 days, wrapped individually and stored in an air-tight container in the refrigerator.
Recipe Reviews