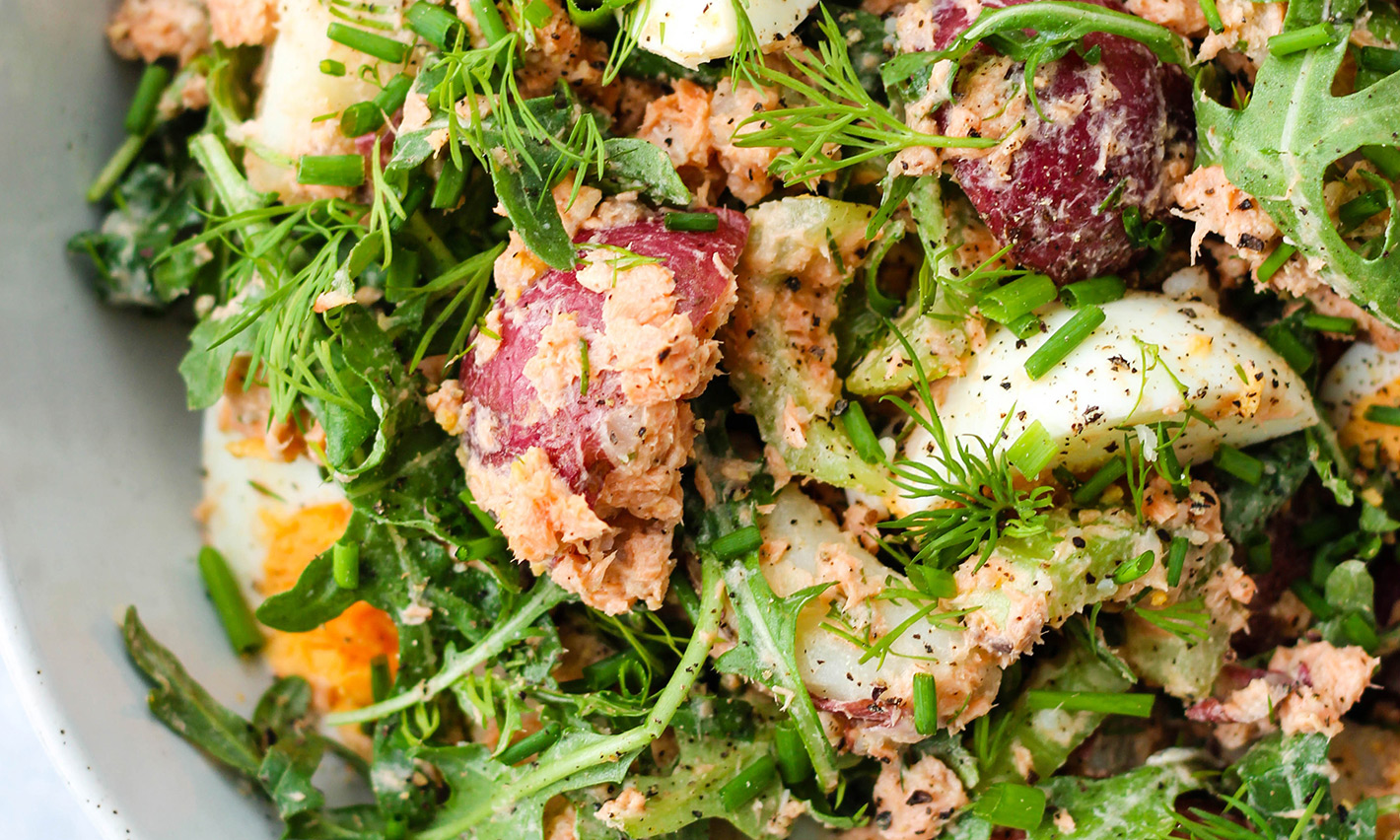 Healthy Canned Salmon Potato Salad
Summer is almost here, which means summer barbecues and picnics are upon us! Here's a crowd-pleasing healthy canned salmon potato salad recipe. So good and made by our amazing partner, Carrie Walder! Visit her website for more recipes and don't forget to follow her on Instagram.
Ingredients
Approx. 2 pounds small/baby potatoes (roughly 20 individual potatoes) 

4 large eggs

1 can (213g) Gold Seal Sockeye Salmon (Traditional)

2 handfuls baby arugula

2 stalks celery

½ cup fresh dill, chopped

Approx. 2 Tbsp fresh chives, chopped 

Optional: ½ a fresh lemon to serve
DRESSING:
¼ cup plain Greek yogurt 

1 tbsp extra virgin olive oil 

1 tbsp dijon mustard

2 tbsp white wine vinegar 

2 tbsp lemon juice

Salt + pepper to taste
Directions
Bring a large pot of water to a boil and cook potatoes until fork tender. Drain and let cool.




In a smaller pot, hard-boil eggs. Let cool once cooked.




In a small bowl, add all dressing ingredients and mix together well with a fork. Adjust to taste as needed.




Quarter cooled potatoes and eggs. Chop celery into 1/4-inch pieces. Flake canned salmon with a fork.




In a large mixing bowl, add quartered potatoes, flaked canned salmon, chopped celery, baby arugula, and chopped dill + chives. Pour mixed dressing over top, then mix all ingredients together well.




Add sliced hard-boiled eggs at the end, and mix together gently. Keep in the refrigerator + enjoy cold. Option to serve with a squeeze of fresh lemon!
Tips and Tricks
The potatoes and eggs can be boiled ahead of time and kept in the fridge. Doing so will greatly speed up the cooking time of this recipe!