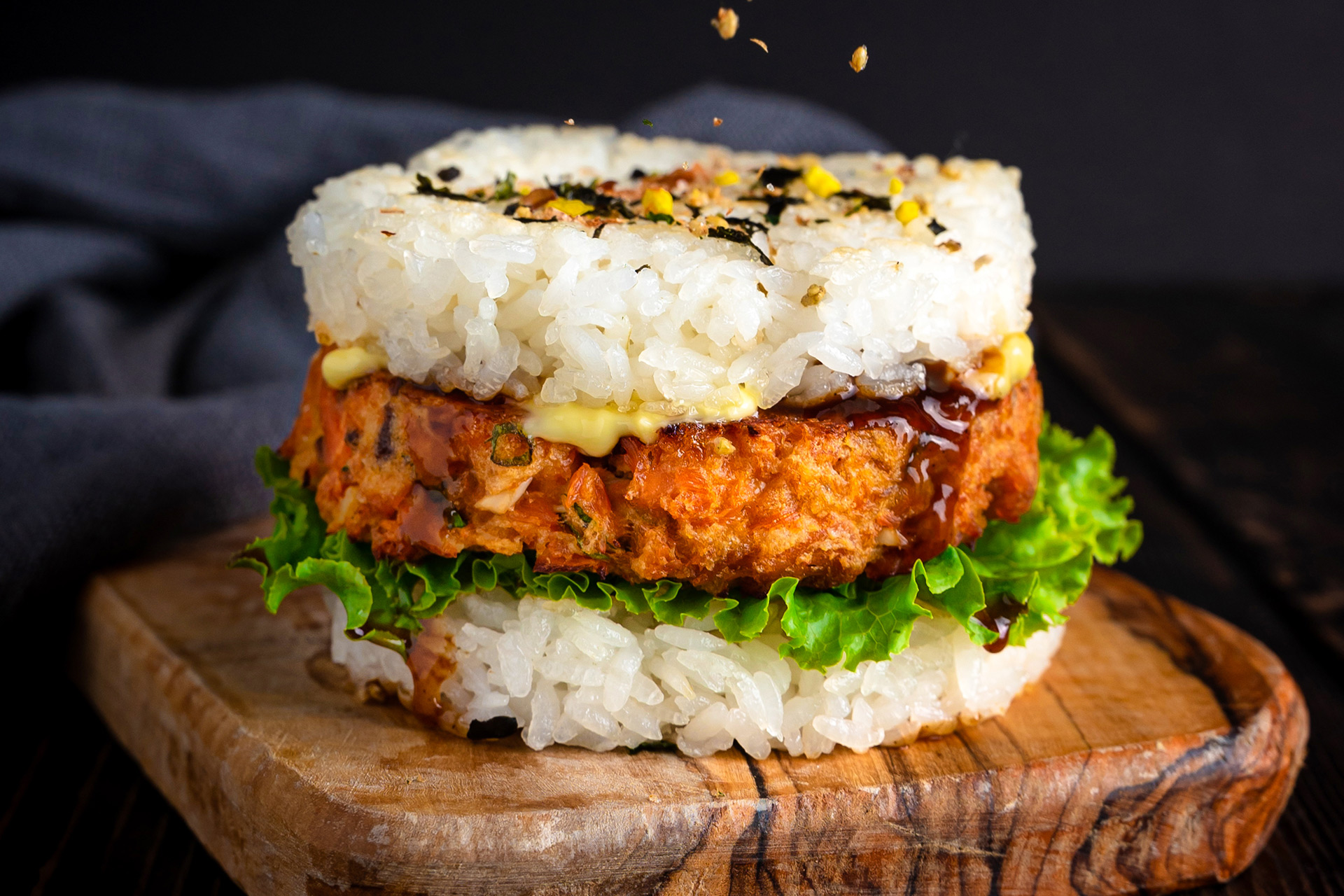 Japanese Salmon Rice Burger
What could be better than a burger? Only a Japanese Salmon Rice Burger! We partnered with the one and only Nora Hamade on this simple recipe that doesn't require any special tools or ingredients. Visit her website and follow her on Instagram and Facebook.
Ingredients
BAKED WILD SOCKEYE SALMON PATTY:
1 cup panko breadcrumbs

1 small onion – grated

1 garlic – finely minced

2 cans (170g) Gold Seal Wild Sockeye Salmon (Skinless/Boneless), drained

2 green onions – finely chopped

1 tsp Tonkatsu sauce

2 eggs – beaten

Pinch each of salt and pepper

3.5' round metal cookie mould
RICE BUNS:
5 cups cooked rice – Jasmine or sushi rice
COOKING:
2 tbsp vegetable oil

Oil spray  
CONDIMENTS:
Tonkatsu Sauce*

Japanese Mayo* – Kewpie

Japanese Furikake* – Bonito & Egg flavour (optional)

Lettuce
   *Found at any Asian supermarkets
Directions
SALMON PATTY:
Preheat oven to 430°F.

Place breadcrumbs and grated onion- including juices in a bowl and mix well.

Add remaining ingredients except for salmon – mix well.

Add salmon – mixing gently so as not to break up the salmon too much. You want some larger chunks in the patty.

Place metal mould on a greased baking tray and scoop in the mixture to make roughly a 1″ thick patty. Lightly pat the mixture down. Lightly spray the top surface with oil. Repeat to make more patties.

Bake 13-15 minutes. Flip, spray surface with oil spray, bake another five minutes.
RICE BUNS:
Heat greased griddle or large frying pan on med-high heat.

Use the same metal mould and place on griddle/pan (make sure the surface is hot) and pack in cooked rice to make roughly a 1″ thick bun.

Cook until the bottom is lightly golden brown (3-4 mins), flip and repeat.
ASSEMBLING THE BURGER:
Rice bun, lettuce, salmon patty, drizzle Japanese mayo & Tonkatsu sauce, rice bun, and sprinkle Furikake for extra crunch and flavour (this is optional).