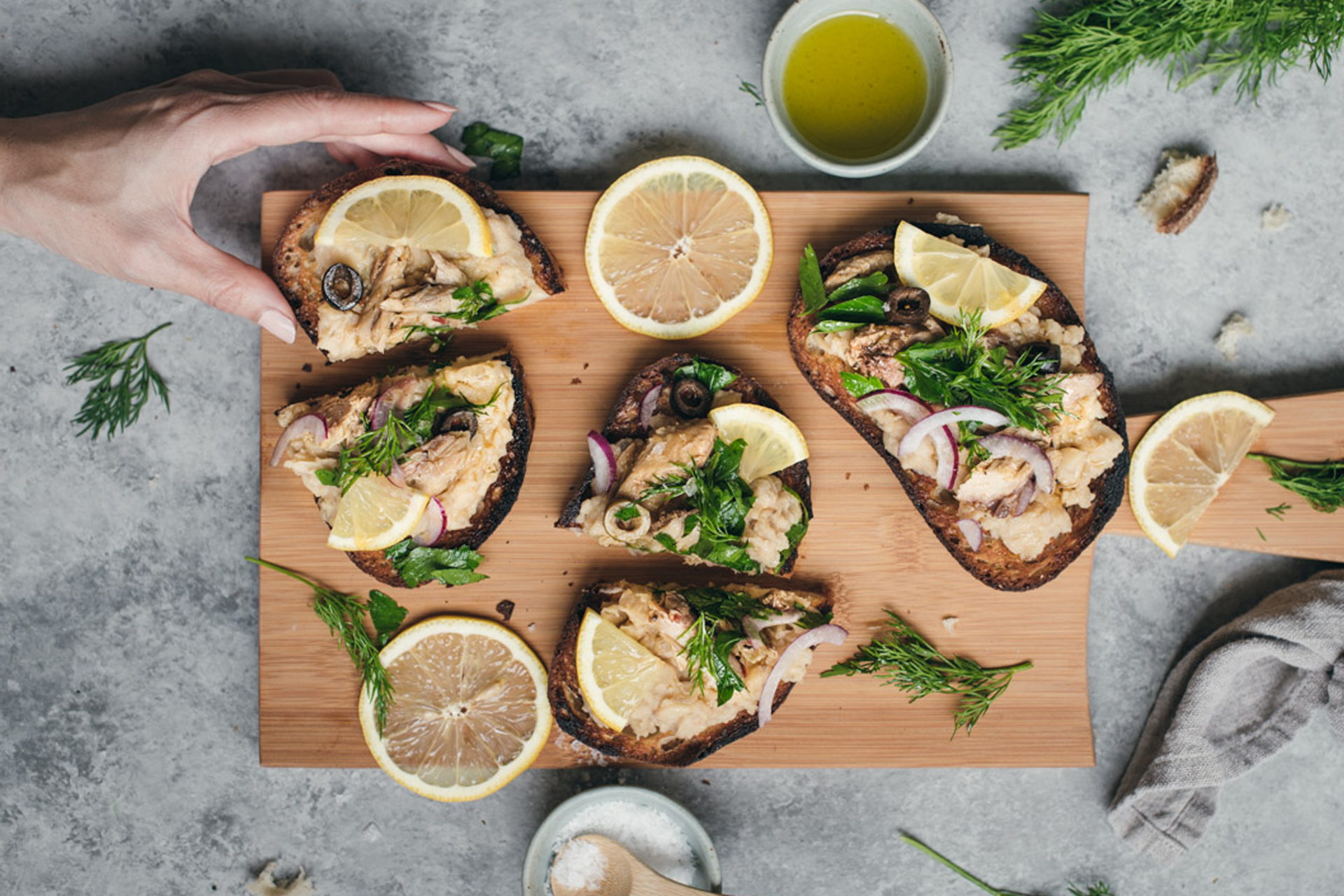 Mackerel And Refried Butter Beans Tartines
Mackerel And Refried Butter Beans Tartines are so easy to prepare and super yummy! This nutritious recipe was created by our Ocean Brands partner, @saltnpepperhere
Ingredients
FOR THE REFRIED BUTTER BEANS:
1 can (14oz) of butter beans (or other canned white bean), rinsed and drained well 

½ cup white onion, finely chopped

1 clove garlic, finely minced

½ tsp dried oregano

1 tbsp chopped fresh dill

¾ cup broth (chicken or vegetable)

½ tsp kosher salt, more or less to taste 

Oil for sautéing
FOR THE PARSLEY SALAD:
½ cup roughly chopped fresh parsley leaves 

1 tbsp fresh dill

2 tbsp fresh lemon juice

6-7 tbsp extra virgin olive oil

Kosher salt to taste
FOR ASSEMBLY + GARNISH:
2 cans (115g) of Gold Seal Wild Mackerel (Mediterranean)

6 slices of sourdough bread, toasted and brushed with some extra virgin olive oil while still hot 

Sprinkle of Maldon salt (or other flakey salt)
Directions
MAKE THE PARSLEY SALAD: Mix all ingredients together and set aside at room temperature while you prepare the refried beans.
MAKE THE REFRIED BEANS:
Preheat a skillet over medium heat.

Drizzle some oil, add the chopped onions along with 1⁄4 tsp kosher salt and sauté a couple of minutes or until softened.

Add minced garlic, dried oregano and fresh dill. Sauté a minute more.

Add well-drained beans and mix well.

Pour in the broth and while it comes to a simmer, mash with a fork to get to desired texture – I like it mashed with some texture still.

Cook about 2 minutes or when the liquid is noticeable reduced. Take off heat.

Taste and add salt and pepper to taste. If it is too thick, mix in some hot water to thin to desired consistency.

ASSEMBLE: Spread refried beans on toasted bread slices. Add fillets of Mackerel, including olives from the can. Top with parsley salad and a sprinkle of flakey salt.