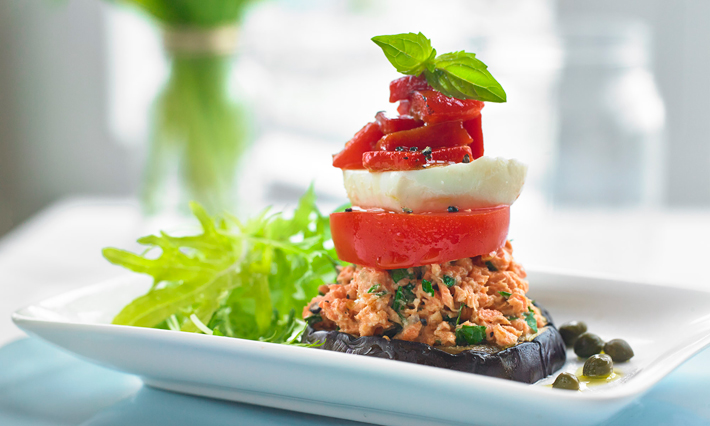 Salmon and Grilled Vegetables Stack
Ingredients
1 

tbsp 

chopped fresh basil

6 

eggplant slices about ¼ inch thick, grilled

1 

ripe tomato, cut into 6 slices

6 

slices of large bocconcini cheese

1 

roasted red pepper cut into strips

White balsamic for drizzling
Directions
In a small bowl mix sour cream with salmon, basil, and lemon juice season with salt and pepper.  Set aside.
Place eggplant in the middle of the plate, then place 2 tbsp of salmon on eggplant, tomato next, bocconcini, and four slices of roasted pepper.
Drizzle extra virgin olive oil and white balsamic over each salad.
Add salt and freshly ground pepper to taste.
Tips and Tricks
Drizzle the oil and the balsamic on the plate for a beautiful presentation. Garnish with capers if desired.