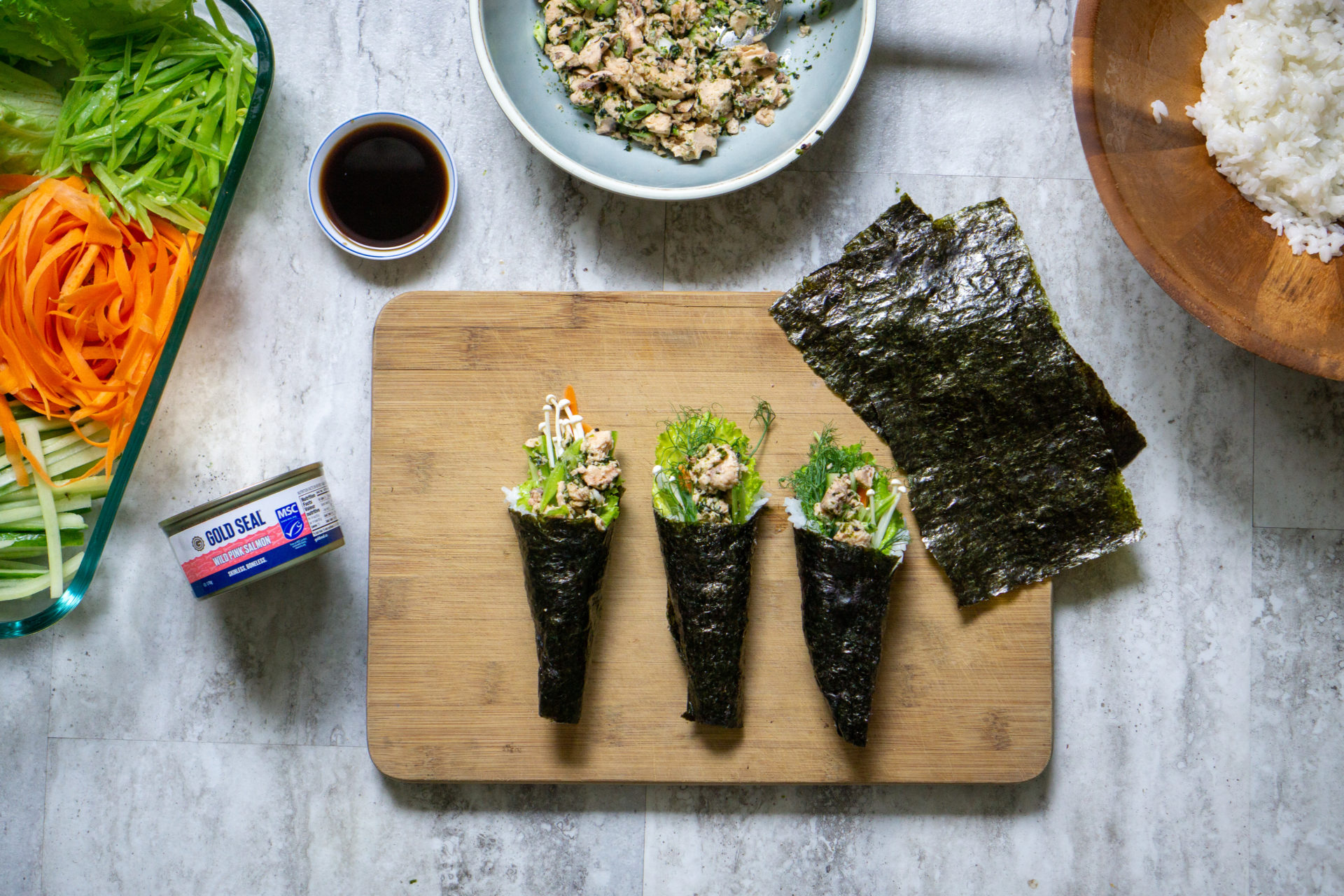 Salmon Furikake Hand Rolls
These Salmon Furikake Hand Rolls are a kid-friendly snack or meal that adults will love too! And full of so much good — omega-3s and protein from the salmon; healthy grains, veggies, and seaweed which is rich in minerals. This fun recipe was developed by our Ocean Brands Partner, Morgan! Follow her on instagram at @morganshupe
Ingredients
1 cup sushi rice
2 tbsp rice wine vinegar
1 tbsp sugar
Salt
1 can (120g) Gold Seal Pink Salmon (Skinless/Boneless)
1 tbsp furikake (a dried Japanese seasoning for fish, rice and veggies)
1-2 green onions, thinly sliced
4 sheets toasted dried nori, halved lengthwise
VEGGIE OPTIONS (CHOOSE 2 – 4 OF YOUR FAVOURITES):
Alfalfa sprouts
Avocado, sliced
Carrots, thinly sliced
Cucumbers, thinly sliced
Enoki mushrooms
Lettuce
Pea shoots or sprouts
Directions
PREP:
Cook sushi rice according to package directions. Once cooked, transfer to a large bowl and gently mix in sushi vinegar, sugar, and a few pinches of salt. Let rest until room temperature, about 15 minutes.
Open Gold Seal Pink Salmon Skinless Boneless and drain liquid. Combine salmon, furikake, and green onions in a bowl. Being careful not to break up salmon pieces too much.
Prep all veggies into small thin pieces about 3-4 inches long.
BUILDING HAND ROLLS:
Ensure hands are dry to keep nori crisp.
Place 1 sheet of nori, shiny side down, into your hand and gently press about 2 rounded tablespoons of sushi rice into a square on one half of the nori sheet. Your fingers handling the rice can be slightly wet to help handle the rice.
Place salmon and veggies on an angle with the top corner of the rice.
Fold the bottom left corner of nori over and begin folding into a cone shape.
Keep rolling until the cone is formed. Put a piece of rice at the bottom corner to use as glue and close tightly.
Serve with pickled ginger, soy sauce, and wasabi as condiments, if desired.