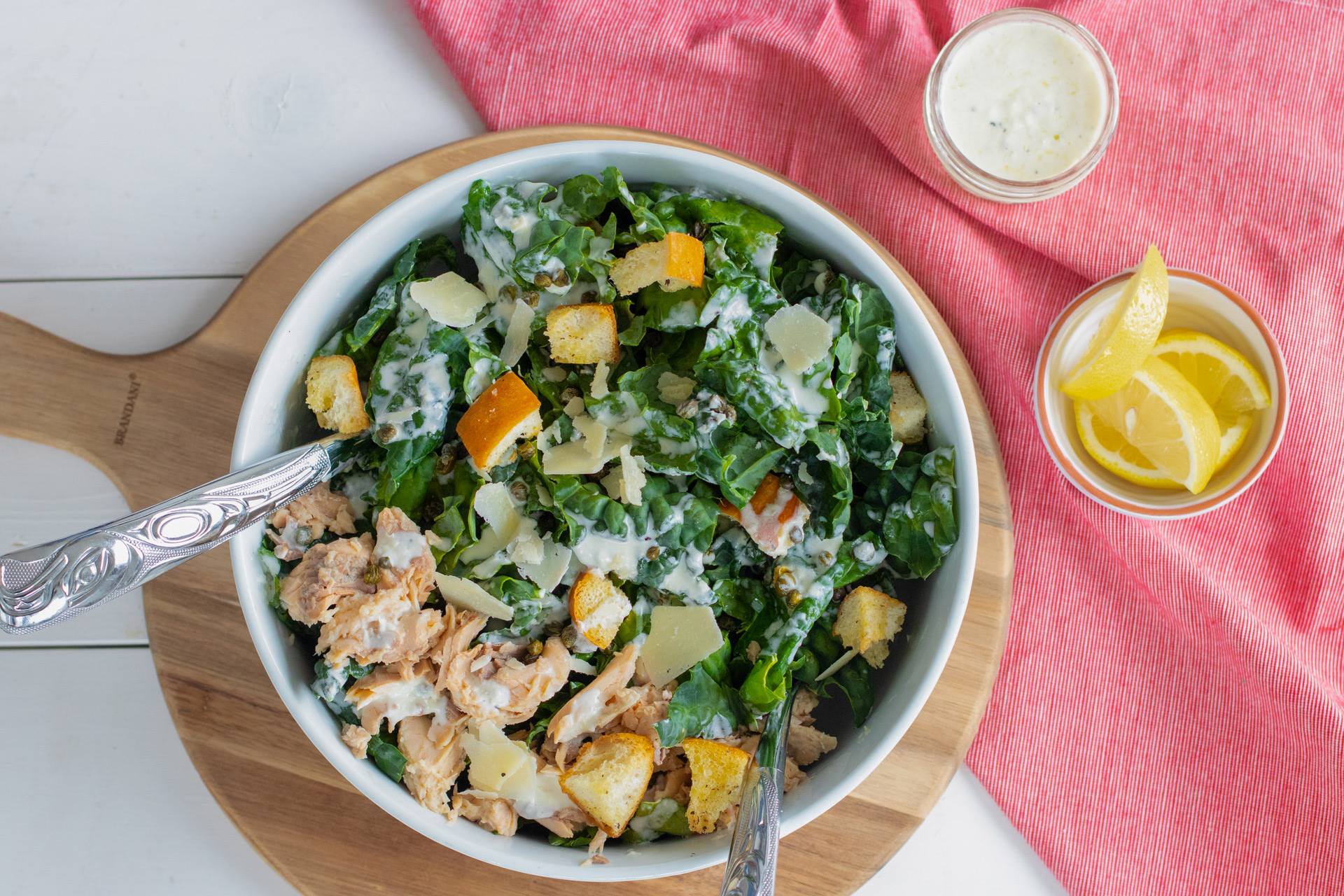 Salmon Kale Caesar Salad
Nothing like a fresh, homemade kale caesar salad to treat yourself to! Delicious dressing, croutons, and salmon come together in this bowl of Feel Good Fuel. Serves 2 for an entree or 4 as a side.
Ingredients
DRESSING:
½ cup 0% plain Greek yogurt

2 Tbsp extra virgin olive oil

2 Tbsp parmesan cheese, finely grated + extra to top salad *optional

1 large clove garlic

Juice of a half lemon

Salt and pepper to taste
CRISPY CAPERS & HOMEMADE CROUTONS:
½  demi ciabatta baguette, cut into bite-sized cubes

⅓ cup capers, drained

2 Tbsp olive oil

Coarse Salt and Freshly cracked pepper to taste
Directions
Preheat oven to 400°F

Combine bread pieces, capers, oil, salt, and pepper in a medium-sized mixing bowl, stir to coat evenly with oil and spices

Line a baking sheet with parchment paper and lay the mixture out in a single layer. Bake for 10-12 minutes or until golden brown and crispy on the outside. Stir half-way through for even browning.

Meanwhile, combine all salad dressing ingredients and whisk with a fork until well combined

Add kale and salad dressing to a large mixing bowl, use tongs to mix well until leaves are evenly coated. 

Plate the salad and top with capers and crouton mixture. Finish off with extra lemon, parmesan, salt, and pepper to taste.
Tips and Tricks
Swap crispy chickpeas for croutons for a higher protein option