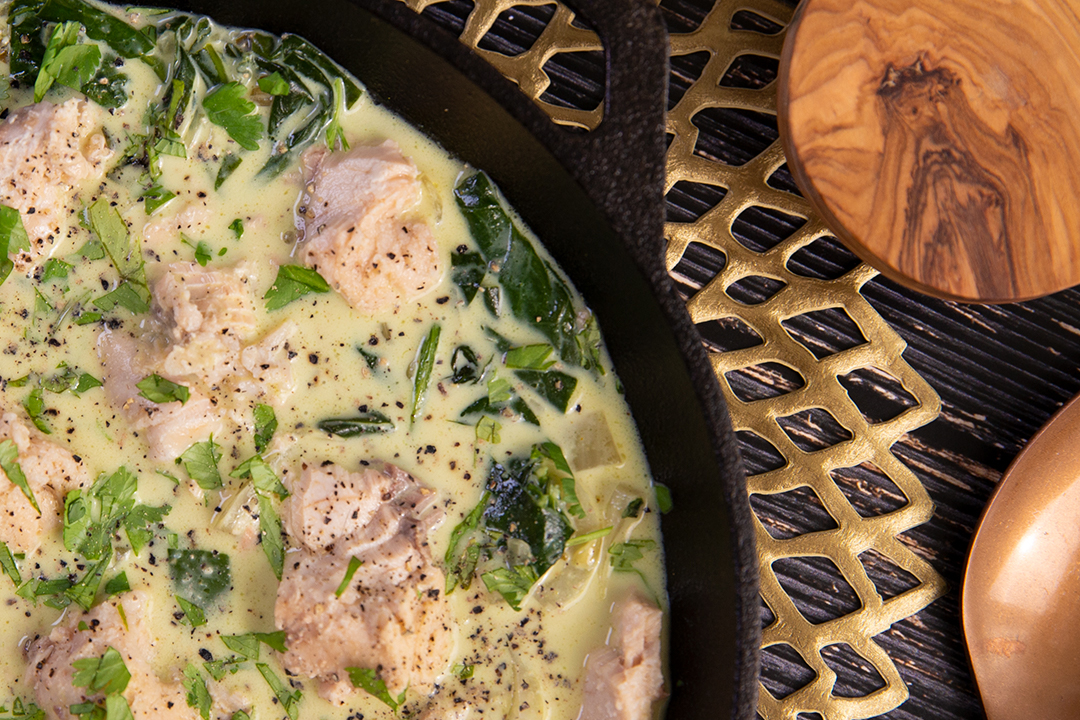 Spinach, Fennel and Coconut Milk Salmon
Coconut milk salmon with delicious spinach and fennel is a no-brainer for dinner and easy to make! The only hard part is choosing between rice or quinoa to have it with.
Ingredients
1 tbsp unsalted butter

1 tbsp olive oil

1 shallot, sliced

2 garlic clove, sliced

1 fennel bulb, thinly sliced 

½ tsp chili flakes

½ tsp turmeric

2 tsp cumin

3 cups spinach, roughly chopped

1 can full-fat coconut milk

2 cans (213g) Gold Seal Wild Pink Salmon (Traditional)

Juice of 1 lemon

Salt and pepper, to taste
Directions
Melt butter and olive oil in a medium frying pan over medium-low heat.

Saute shallot, garlic, fennel, chili flakes, turmeric, and cumin for 7-10 minutes or until translucent.

Add spinach and cook down until wilted.

Add coconut milk and stir to combine. Bring to a gentle simmer.

Remove bones from salmon. Add salmon and lemon juice and cook until warmed through, 7-10 minutes. Be careful not to break up the salmon. Season with salt and pepper, to taste. 
Tips and Tricks
Serve with rice or quinoa pilaf.