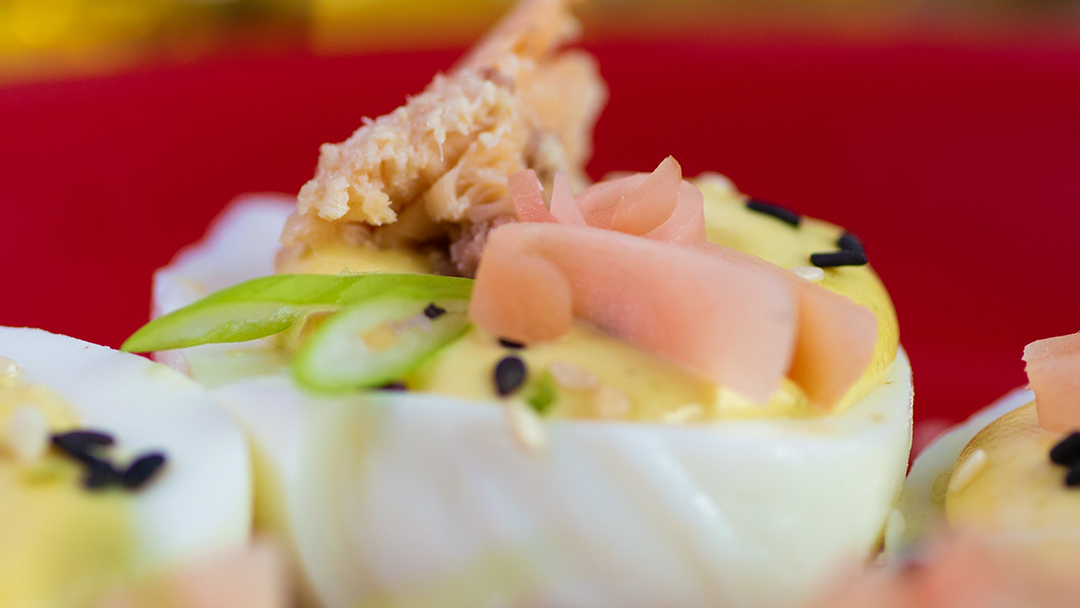 Wasabi Ginger Salmon Deviled Eggs
Salmon deviled eggs with wasabi and ginger make this starter unique and yummy! It's a Japanese twist on a classic holiday recipe and so good!
Ingredients
12 eggs

½ cup 

2 tsp wasabi paste

1 ½ tsp ginger, grated

1 tsp dijon

4 green onions, finely sliced

½ tsp cayenne

¼ tsp salt

2 cans (120g) Gold Seal Pink Salmon (Skinless/Boneless), drained

Cilantro, for garnish

Black sesame, for garnish 

Pickled ginger, for garnish
Directions
Hard boil the eggs. For the perfect peelable egg, boil water in a medium saucepan. Gently lower eggs into boiling water, ensuring they are covered by at least two inches. Cook for 11 minutes. Remove from water and place directly in a bowl of ice water. Keep in the ice water until completely cooled.

Peel the eggs and cut in half lengthwise. Gently scoop out the yolk and add to a bowl.

Add the mayo, wasabi paste, ginger, dijon, cayenne, and salt to the yolks and mix everything together.

For fancy deviled eggs, pipe the yolk mixture through a patterned piping bag nozzle. Otherwise, use a spoon to scoop it back into the eggs. Top each piece with a large chunk of Gold Seal Pink Salmon. Garnish with cilantro, sesame, and pickled ginger.