If you're familiar with our brand, you probably already know that our B Corp certification is a great source of pride for us. As a consumer, you might be curious to understand why being a B Corp is so important to us, and, more to the point, why you should care! To put it simply, B Corp certification reflects the fact that we are a purpose-led brand. That means that, more than just chasing profits, we're conducting business in a way that aligns with our company values.  
B Corp Means That Our Values Guide Us
More than just another label, B Corp certification is a rigorous process that cements a brand's commitment to using business as a force for good. We are proud of our B Corp certification because it reflects our dedication to balancing profits with creating a positive impact on our employees, the communities in which we operate, our customers, and the environment.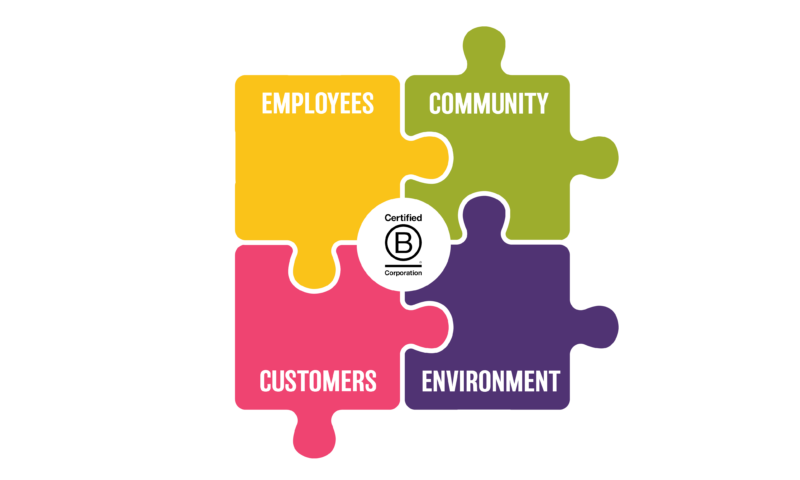 In short, we consider all stakeholders in every decision we make, not just those who are directly impacted by our business.  
To become B Corp, we participated in a thorough assessment of our social and environmental performance. To remain certified, we continue to be transparent and accountable in each of these areas.   
Why You Should Buy from B Corps and Other Values-Led Brands
Today, many consumers actively seek out brands that are led by strong values. It's an important consideration because every dollar you spend on a purchase supports the way a business operates. Ask yourself, wouldn't you like to know that you're purchasing from brands who work to create a positive impact in the world? 
Look for the B Corp logo when making purchasing decisions and rest assured that the brands you're choosing are helping to build a more equitable and sustainable economy.