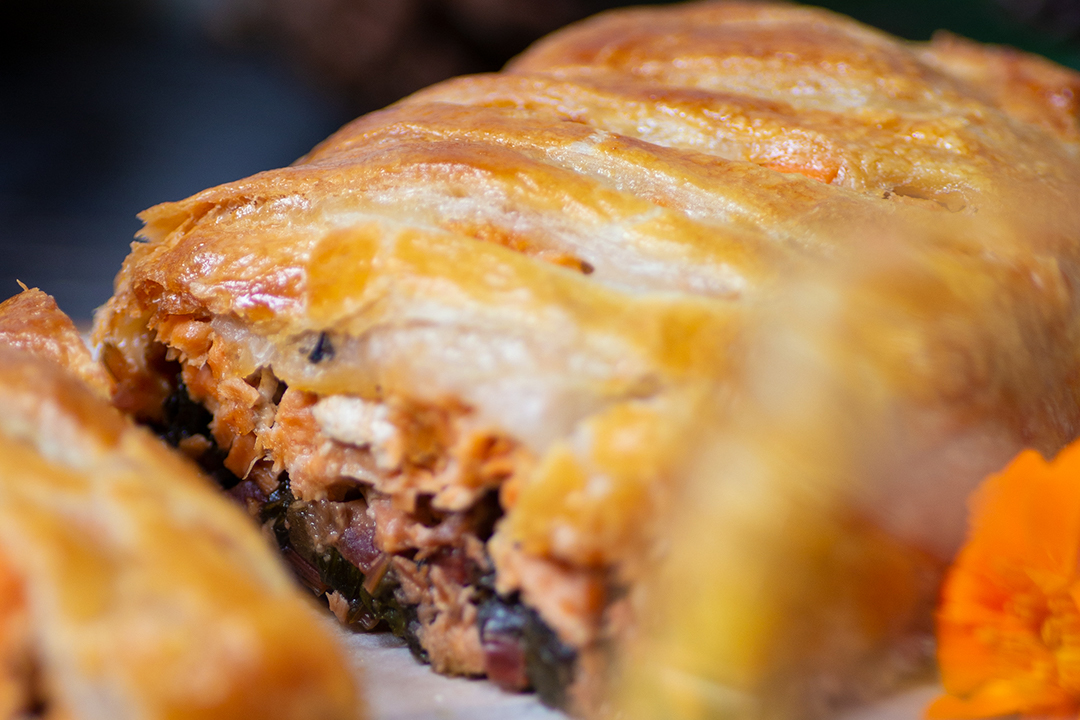 Salmon Wellington with Rainbow Swiss Chard Filling
This mouthwatering Salmon Wellington will become your new favourite go-to dish. The Rainbow Swiss Chard Filling is so flavourful, you won't be able to resist another serving!
Ingredients
1 tbsp olive oil

½ white onion, diced

2 cloves of garlic, minced

1 bunch swiss chard, stems and leaves finely chopped 

2 tbsp lemon juice

½ cup full-fat coconut milk

2 tbsp thyme, finely chopped

Salt and pepper to taste

½ sheet puff pastry

1 tbsp dijon

1 can (170g) Gold Seal Wild Sockeye Salmon (Skinless/Boneless)

Salt and pepper, to taste

1 egg, beaten
Directions
Preheat oven to 400°F. Drain salmon and set aside on paper towel to dry.

Heat olive oil in a pan over medium-low heat. Add onion, garlic, and chard stems and cook until soft. Add chard leaves and lemon juice and cook for 5 minutes or until wilted.

Add the coconut milk and thyme and stir. Cook for 5 minutes. Season with salt and pepper. 

Take the pastry out of the fridge and set onto a cutting board. Roll the pastry out to ¼ inch thickness and place back in the fridge to chill for 20 minutes. Remove from fridge. Spread the dijon lengthwise in a rectangular shape in the middle of the pastry. Place the salmon on top of the dijon and top with the swiss chard filling.

Fold the top and the bottom part of the pastry over the filling. Trim off any excess pastry on either end and then fold the outside pieces in toward the middle. Flip over so the seam is on the bottom.

Brush the pastry with the beaten egg. Use a sharp knife to make small slits in pastry that will allow steam to escape while baking! 

Bake in the preheated oven until golden brown, 35-45 minutes.