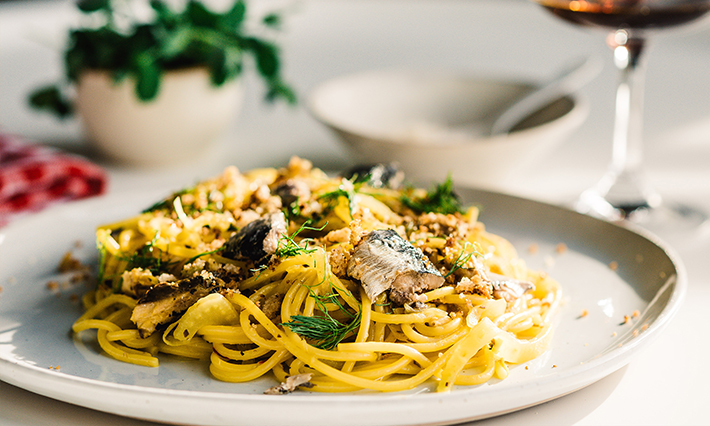 Pasta con le Sarde
A classic Sicilian dish that's sweet and savoury! Pasta con le Sarde is as simple as it is flavourful.
Ingredients
Directions
Make the breadcrumbs: Pulse the day-old bread in a food processor or roughly chop until it resembles coarse breadcrumbs.
Heat up the butter in a pan over medium heat. Add the garlic and breadcrumbs, stirring often until golden brown and crisp. Remove from the pan and let cool completely.
Make the Pasta: Place the raisins in some warm water to plump up. Remove the fronds from the fennel, roughly chop and set aside. Thinly slice the fennel. Place the saffron threads in 1 tablespoon warm water and set aside.
Heat up a large pot of salted water and cook the pasta according to the package.
While the pasta is cooking, heat up the oil in a large pan over medium heat. Add the fennel and the onions and cook, stirring often until soft and translucent, but not brown. Stir in the saffron, drained raisins, and pine nuts. Stir in the sardines.
When the pasta is done, use tongs to transfer pasta to pot with sauce along with a ¼ cup pasta cooking liquid. Cook, tossing often, until pasta is coated and glossy, adding pasta water if needed. Season with salt and freshly ground pepper. Season with salt and pepper to taste.
Plate, topping with the reserved fennel fronds and crispy breadcrumbs.
Recipe Reviews