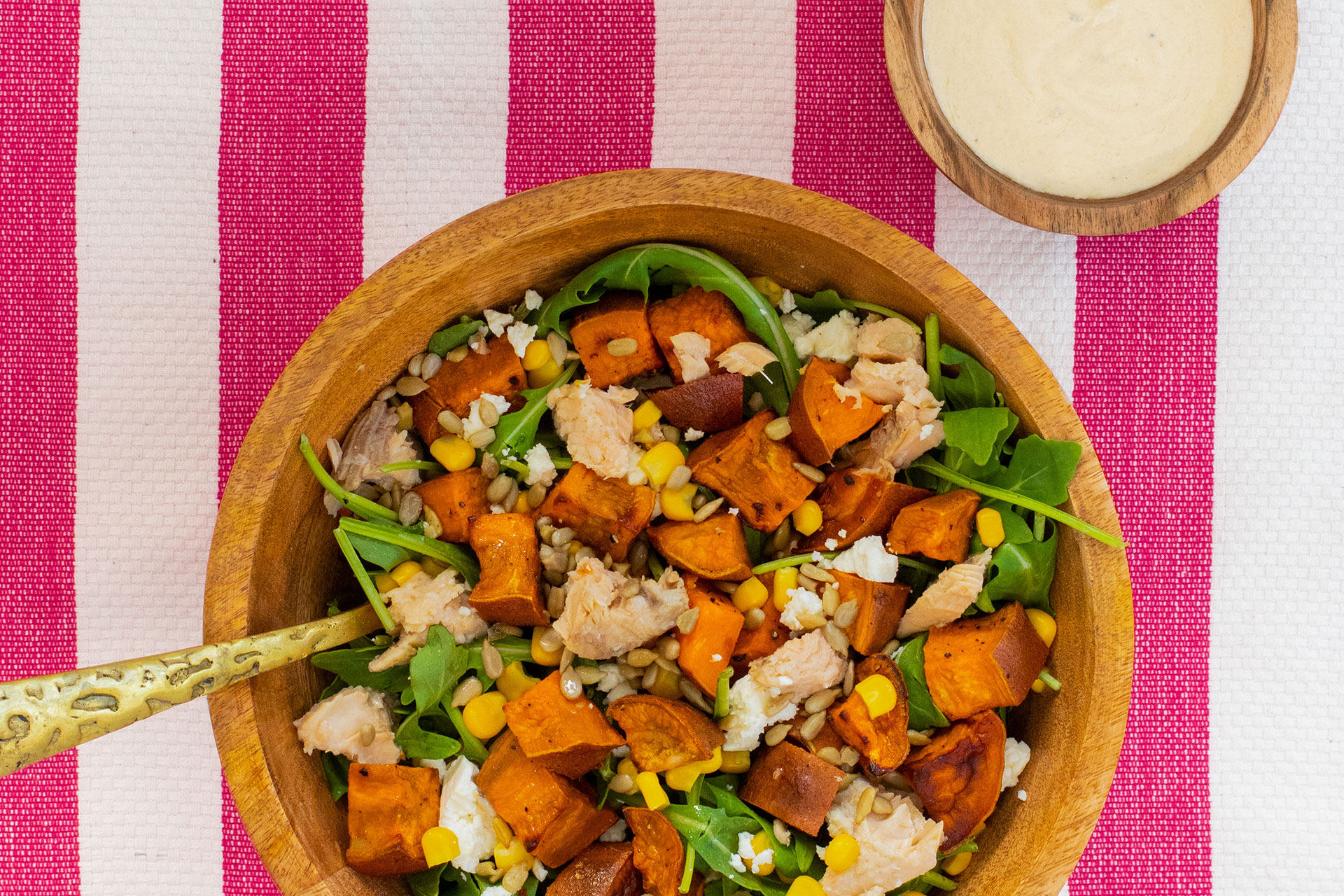 Perfect Summer Potluck Salmon Salad
Summer is here and we can't help but daydream of picnics and potlucks. Our new Perfect Potluck Salmon Salad recipe is THE best comfort food you can think of: warm potatoes, wild sockeye salmon, corn, feta and lots and lots of greens!
Ingredients
1 x 5 oz (142g)  arugula

1 small yam ( approx. 250-300g), cubed

1 tbsp avocado oil

½ cup corn kernels, drained and rinsed if canned or defrosted if frozen

1 can (213g) Gold Seal Wild Pink Salmon (Traditional), drained

⅓ cup feta cheese, crumbled

¼ cup sunflower seeds, salted
DRESSING:
¼ cup 2% or 5% plain Greek yogurt

1 ½ Tbsp extra virgin olive oil

1-2 tsp Dijon mustard (start with one and adjust to taste)

1 tsp red wine vinegar

Salt and pepper to taste
Directions
Preheat oven to 400°F. Line a baking sheet with parchment paper

Toss yams in olive oil and lay on a baking sheet in a single layer. Roast for 30-40 minutes or until fork-tender and golden brown. Add corn for the last 10 minutes of cooking.

Meanwhile, In a medium-sized mixing bowl, combine all dressing ingredients, mix with a fork until well combined.

To serve, add arugula to a large bowl or serving platter, top with yams, corn, salmon, and feta. Add dressing and toss to coat evenly.

Finish with sunflower seeds and serve.
Tips and Tricks
Swap feta for goat cheese. Also delicious served cold!