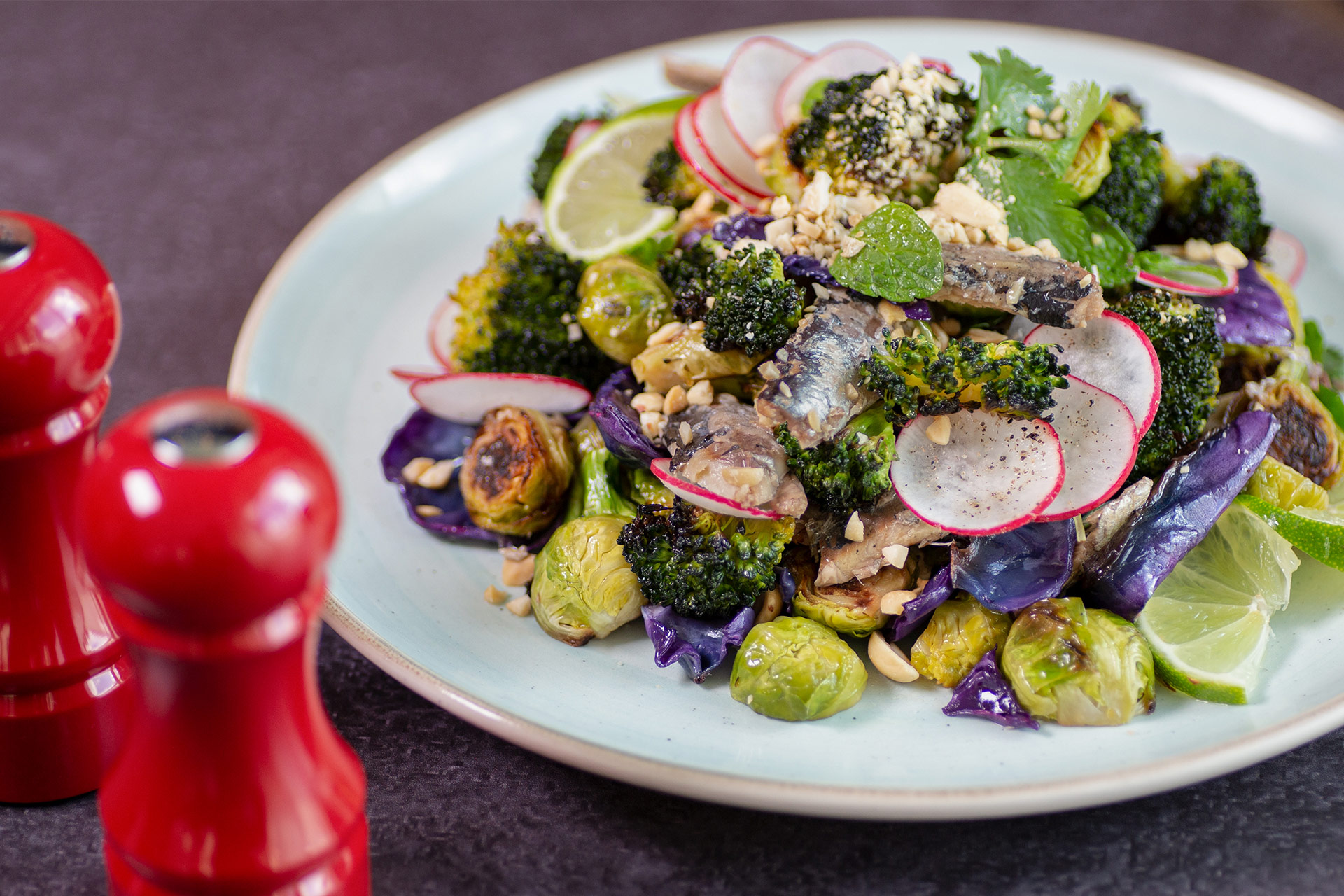 Roasted Vegetable Salad with Sardines
Vegetables taste so much better roasted! This roasted vegetable salad with sardines bring out the natural fresh flavours with a hint of savoury protein. Topped with a slightly sweet and nutty dressing, you'll want this salad every day! Perfect for meal preps and dinner sides. Enjoy!
Ingredients
SALAD:
4 tbsp avocado oil

2 cups broccoli florets

2 cups brussels sprouts, halved

2 cups purple cabbage, thick slices

2 cans (125g) Gold Seal Sardines (Soya Oil)

1 cup roasted peanuts, roughly chopped

½ cup scallions, thinly sliced

¼ cup mint, to garnish

¼ cilantro, to garnish

Maldon salt, to garnish
DRESSING:
¼ cup peanut butter

1 tbsp sesame oil

2 tbsp Tamari or soy sauce

1 clove garlic, grated 

1 tbsp ginger, grated 

1 tbsp honey

3 tbsp rice vinegar

2 tbsp warm water
Directions
Preheat oven to 400°F.

Toss broccoli, brussels sprouts and cabbage (in separate bowls) in avocado oil and season with salt and pepper.

Arrange vegetables in a single layer on baking sheets and roast for 18-22 minutes. Be sure to not overcrowd the baking sheet.

Whisk the dressing ingredients in a small bowl.

Arrange vegetables amongst bowls and top with sardines. Drizzle dressing on vegetables and garnish with peanuts, scallions, mint, cilantro and finish with Maldon salt.