Keeping a well-stocked pantry is the ultimate life hack for creating healthy, flavourful meals on the fly. It can also be a source of creativity as you find ways to use ingredients you have on hand or substitute those you don't. Since it's impossible to stock your pantry with an exhaustive list of items suited to every recipe, focus on items that are versatile and have long shelf lives.
Grains
A source of carbohydrates and other important nutrients, grains are both filling and versatile. Focus on keeping your pantry stocked with whole grains like quinoa, barley, brown rice, whole wheat couscous, and bulgur. Add any of these to a salad or bowl and feel free to swap them for one another
Pasta is another pantry hero in this category. Create a complete meal using pasta and a ready-made sauce or use a few simple ingredients from your fridge and pantry to make your own sauce. Think beyond the standard pasta dish and you'll find a world of other creative options. For example, it makes a great addition to salads and soups, giving them a little more substance and texture.
Legumes
Rich in protein and fiber, legumes are another versatile pantry staple. Many legumes are available in both dry and canned preparations, making them easy to keep on hand. For an extra punch of fiber and protein, add lentils or beans to salads, grain dishes, pasta sauces, soups, or anything else your heart desires. Want to make legumes the star of your meal? Try a lentil or bean soup or curry. You can even make dessert with legumes—hello chocolate hummus!
Protein
Necessary for building muscle mass and sustaining a variety of other functions in your body, protein is one of three essential macronutrients. The term "macro" refers to the fact that our bodies need large amounts of these nutrients to sustain life. Naturally, this makes protein an essential pantry staple. Keep items like canned salmon, mackerel, and sardines in your pantry. In addition to being rich in protein, they're packed with other nutrients and can quickly transform a bland meal. Add salmon to a salad, top a veggie stir-fry with mackerel, or pop sardines on crackers for a quick snack.
Raid the Pantry, Get Creative
With these trusty pantry staples on hand, you'll never find yourself in a position where there's "no food in the house." Even if you don't have the exact ingredients to follow a recipe, stocking items in each of these categories makes for easy substitutions. Start with the basic recipe and get creative… Experiment! Swap one grain with another, add protein with canned seafood, try different spices, substitute veggies outlined in the recipe with ones you have on hand—the sky is the limit. Make preparing a creative meal a family event and get the kids involved in choosing substitutions for missing ingredients. It's a fun, interactive way for them to flex their creative muscles and try new foods!
Need inspiration? Start with a few of our favourite recipes featuring pantry staples. Follow them exactly or make substitutions—it's up to you!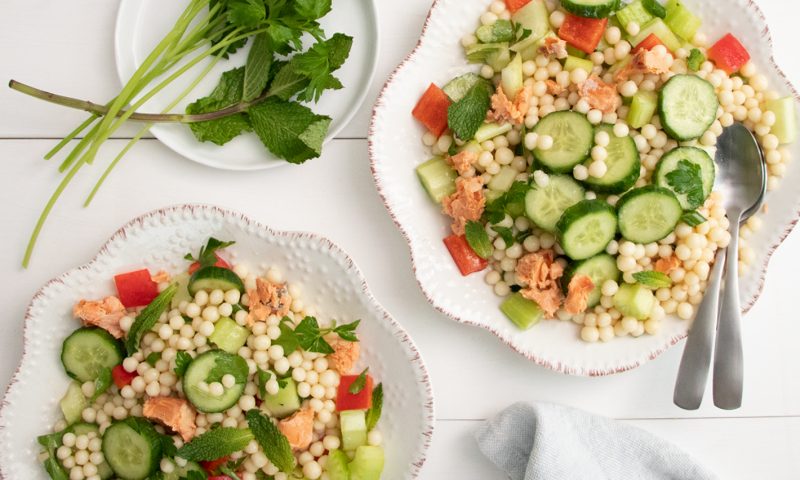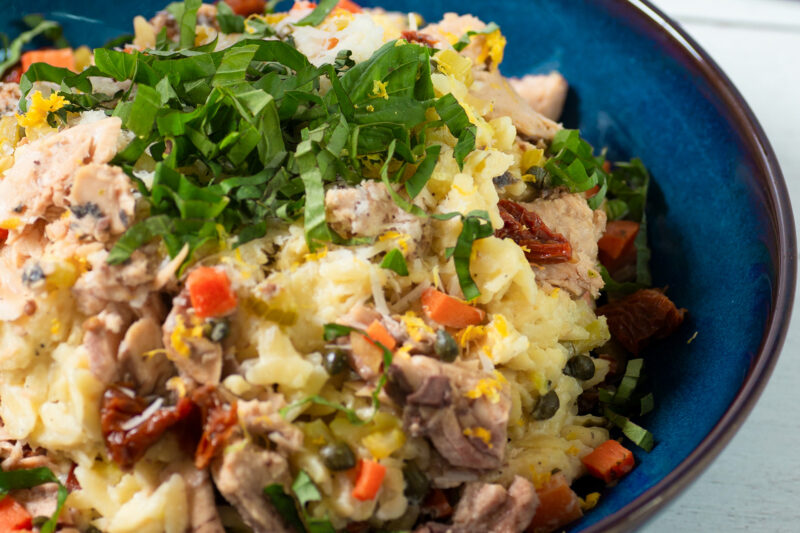 Colour Me Salmon and Chickpea Bowl