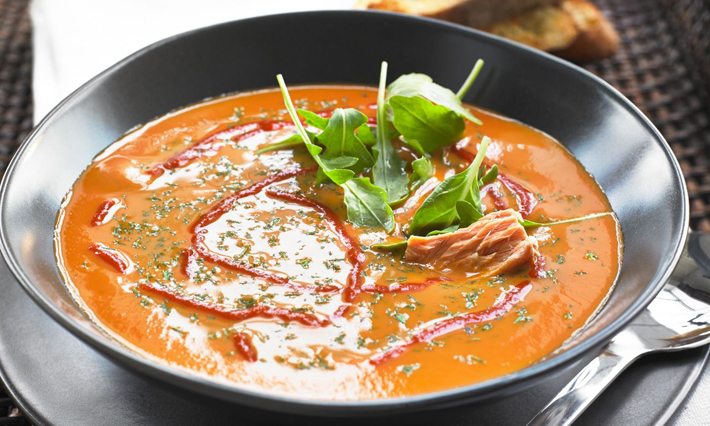 Chef's Salmon Chowder
As a main dish in the winter or a pleasing starter to any meal, this Salmon Chowder recipe has it all. So good and so comforting!
Ingredients
1 

cup 

red pepper, finely diced

1 

cup 

celery, finely diced

1 

cup 

onion, finely diced

2 

cups 

of canned whole tomatoes

1 

tbsp 

dill, finely chopped
Directions
Sauté red pepper, diced celery, onion in olive oil in a stockpot over medium to high heat for 3-5 minutes.
Add canned whole tomatoes and juice, corn, potatoes, cream and 1 can of salmon.
Reduce heat to medium and simmer covered for one hour or until all flavours are well combined and potatoes are cooked.
When cooled down, puree the soup in a food processor, add chunks of the second can of salmon and garnish with fresh dill.
Tips and Tricks
If you are not a dill lover, don't add it, but it really does round out the flavours of this dish beautifully.
If you use a low-fat cream, warm the chowder at a lower temperature and stir more often.