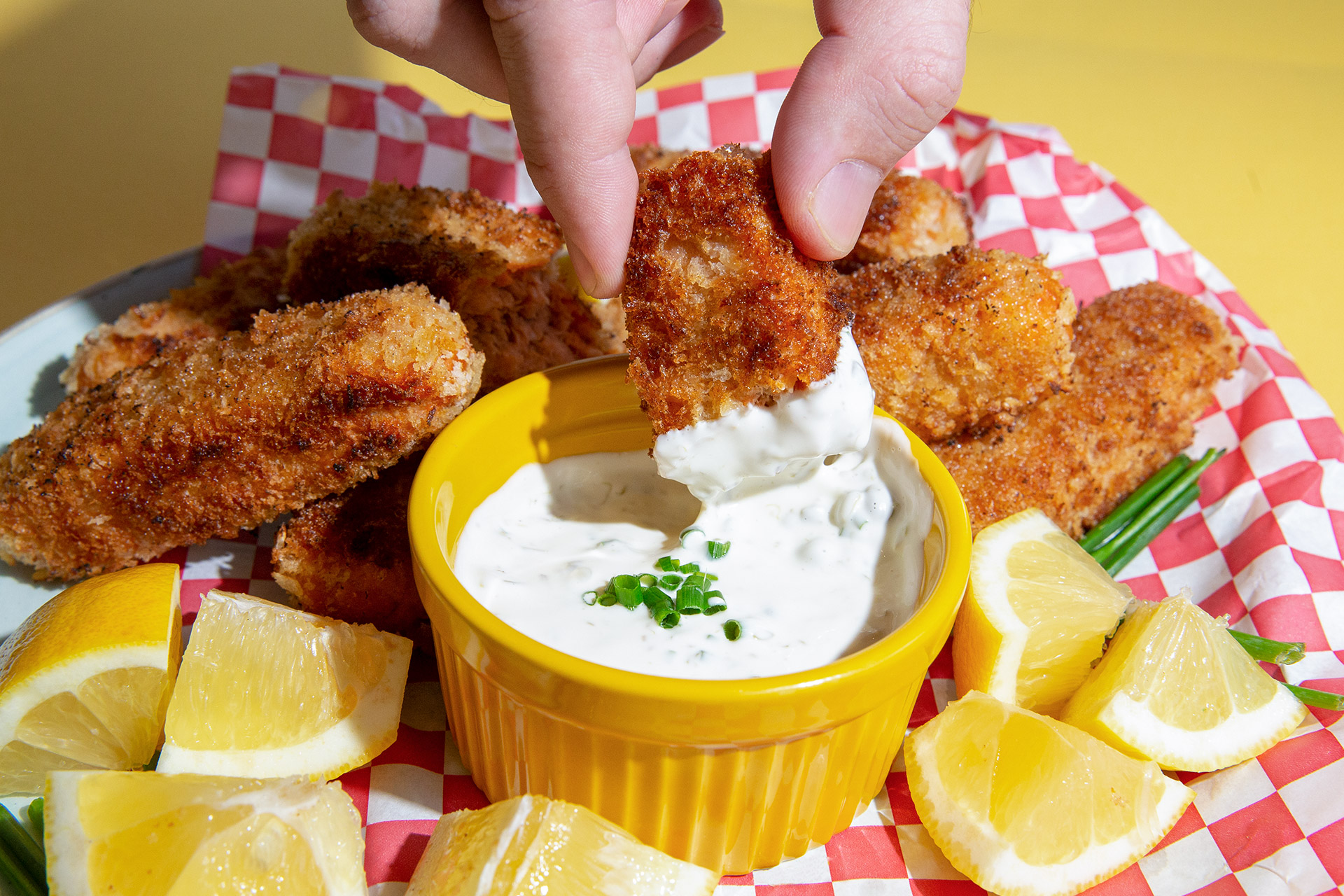 Healthier Fish Sticks
Ingredients
2 cans (213g) Gold Seal Pink Salmon, drained 

 

2 eggs

 

¼ cup flour + more for dusting

 

1 cup panko breadcrumbs

 

½ tsp garlic powder

 

½ tsp hot paprika

 

⅓ cup heat stable oil

 

½ cup mayonnaise

 

1 tsp capers

 

1 tbsp chives, roughly chopped

 

Salt and pepper to taste

 
Directions
Add the salmon to a mixing bowl and use a fork to break it up into small pieces and mash the bones. Add 1 egg and ¼ cup of flour and season with salt and pepper. Mix well to combine. Form the mixture into 8 tubular patties. Flatten them slightly. Dust with flour and place in the freezer while you prepare your dredging station and dipping sauce. 

 

Whisk the other egg in a shallow bowl. Add the panko, garlic powder and hot paprika to a separate shallow bowl, season with salt and pepper and mix to combine. 

 

In a small bowl, mix the mayo, capers and chives. Season with pepper. 

 

Add the ⅓ cup oil to a shallow frying pan. Once you have dredged half of your fish sticks, turn the heat to medium to preheat the oil.

 

Remove fish sticks from the freezer. One at a time, dip each piece in the egg and then the panko. Make sure to let as much of the egg drip off as possible before breading it with the panko. Gently press the panko mixture evenly into all sides. 

 

Add a small amount of panko to the pan. If it sizzles, you are ready to fry your fish sticks. Add them to the pan in a single layer and cook for 2 minutes on each of the 4 sides. Keep an eye on them and turn your heat down if they begin to burn.

 

Remove and set aside on a wire rack or paper towel lined plate. 

 

Serve with caper mayo. 

 
Recipe Reviews